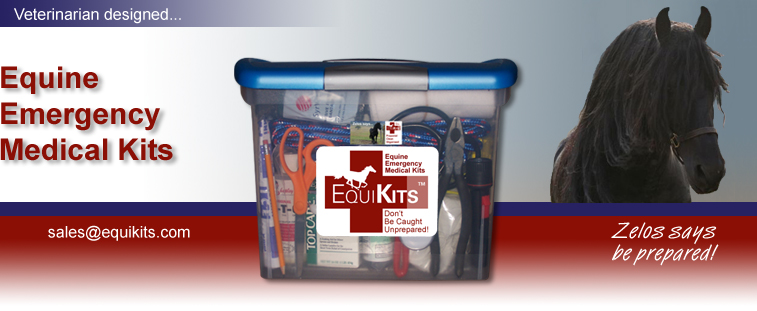 | | |
| --- | --- |
| The EquiKit™ "EquiFoalingKit™" Delivery Kit for Mare and Foal | |
Contains 41 carefully chosen items. You will find that the EquiKit™ "EquiFoalingKit™" goes well beyond what is found in many other horse foaling kits.
Includes Doc Alaire's own Organic Herbal Healing Salve,
brochures on foaling by the American Association of Equine Practitioners,
and Doc Alaire's booklet on "Foaling Guidelines".
Key info for our Foal Babies:
The Orange Fleet Enema which I have included in the EquiFoalingKit™ - Unlike nearly every foal kit I have seen on the internet and in equine catalogs, I ONLY recommend a MINERAL OIL-based enema for newborns, NOT water/saline!! Why? Because a saline-based enema is harsher and works by drawing water out of the gut to cause evacuation. This upsets the hydration balance of our newborns who are less than one day old (they are pretty fragile at this point in their little lives!). A MINERAL OIL-based enema is gentle and causes NO harm, and 'gets the job done' without effecting 'things' systemically. A MINERAL OIL-based enema as found in the EquiFoalingKit™, will NOT interfere with hydration of our babies.
Frankly, the saline-based enema products are generally less costly for the Seller!
Key info for our Mares:
Just a reminder - to contact your veterinarian if your mare demonstrates vaginal discharge and/or premature udder development or begins leaking milk well before her due date, as these can be warning signs of placental disease and a possible compromised pregnancy.
1 - Clear-sided, plastic carry case with handle.

1 - Povidone Iodine Solution - 125 ml. (4 ounce) 'squeezer' bottle with 'flip-top' for application to navel (or for other uses).

1 - 'Travel Pac' of "Wet Ones" – 15 large, thick & strong antibacterial, moist towelettes with soothing Aloe.

My own Herbal Healing Salve (all Organic Ingredients): Beeswax, olive oil, calendula, chamomile, comfrey, echinacea, chickweed, thyme, tee tree oil, and naturally acquired Vitamin E. *Good for mare, foal, and rider! I grow my own herbs/medicinals.

2 - Clean, white, 100% cotton, shop-size towels.

1 - 10.1 cm. (4 inch) wide roll Syr-Vet cohesive flexible bandage-mares tail.

2 - pair vinyl gloves (one size fits all).

2 - shoulder length vinyl gloves (one size fits all).

2 - large, non-stick, sterile, highly absorbent/hospital-grade, Telfa-type pads.

5 - absorbent, hospital-grade, gauze pads.

1 - LED Flashlight with 3 fresh batteries installed.

1 - 12.7 cm. (5 inch) heavy duty veterinary thermometer with case. Fahrenheit & Celsius.

3 - Packets of triple antibiotic ointment (neomycin, polymyxin B sulfates, and bacitracin zinc.)

1 - Stainless steel hemostat forceps of good quality for umbilical cord.

1 - Orange Fleet Enema. I only recommend a mineral, oil-based product for newborns, NOT water/saline.

1 - Stainless scissors.

1 - Container of 'Ivory' liquid. A moisturizing body wash that mildly cleanses with a rich/creamy moisturizing lather. Been around for 125 yrs.!

1 - Calibrated measuring cup for washing mare/milking mare.

1 - Evenflo-style, calibrated baby bottle and nipple.

1 - Tube of sterile lubricant.

1 - Cord for tying-off navel.

1 - One large easy-tie garbage bag for placenta.

1 - Note Pad.

1 - Pen.

1 - Pencil.

1 - AAEP - "Foaling Mare & Newborn, Preparing for a Safe and Successful Foal Delivery".

1 - Reading List on Foaling.

1 - AAEP - "Expectant Mare, Assuring the Health and Well-Being of the Pregnant Mare".

1 - Backgrounder on my Herbal Healing Salve.

1 - Booklet written by Doc alaire titled: "GENERAL FOALING GUIDLINES".
NOTE: When you purchase the EquiKit™"Foaling" Kit, you WILL receive all of the medical supplies as listed above, but on occasion, due to packaging and design changes by the vendors, some items may appear slightly different than the items in the photos.
EquiKits™ • 19 Bardin Rd., Granville, N.Y. 12832 • Phone 570.250.1622 • email: sales@equikits.com
Equine Emergency Medical Kits & Horse First Aid