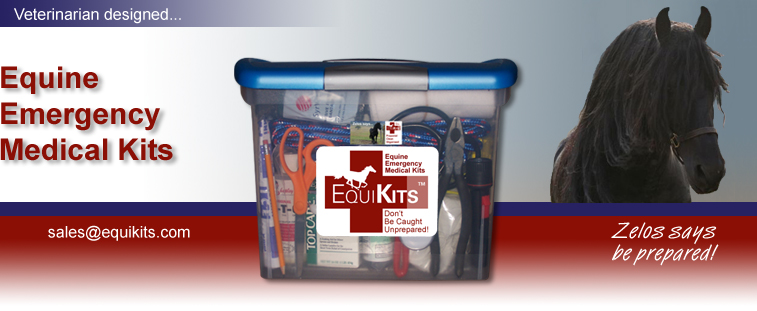 | | |
| --- | --- |
| The EquiKit™ "Basic" Equine Emergency Medical Kit | |
Contains 41 carefully chosen items including Doc Alaire's Organic Herbal Healing Salve.You will find that the EquiKit™"BASIC" Kit goes well beyond what is found in many other horse first aid kits.
Clear-sided, heavy duty plastic carry case with handle.
Triple antibiotic ointment - 1oz. (28.4 gm) tube. Neomycin and Polymyxin B Sulfates and Bacitracin Zinc.

Doc Alaire's Herbal Healing Salve

(all Organic Ingredients): Beeswax, olive oil, calendula, chamomile, comfrey, echinacea, chickweed, thyme, tea tree oil, and naturally acquired Vitamin E.*Good for both horse and rider! I grow my own herbs/medicinals.
Sterile Saline - 12 oz. (12.4 oz. UK) 'squeezer bottle' for wound or eye irrigation.
Duck tape roll for making hoof bandage or pressure wrap in severe bleeding.
Povidone Iodine Solution (not "scrub") - 4 ounce 'squeezer' bottle with 'flip-top' for cleaning wounds, skin infections, etc.
'Wet Ones' - large, thick & strong antibacterial, moist towelettes with soothing Aloe.
1 - clean, white, 100% cotton, hand towel.
1 - Polo Wrap; 'one size fits all', cloth (280 gm. fleece) with Velcro, closure track bandage. Easy to use and adjust.
1 washable, full-size fluffy leg quilt for use with track bandage.
2 - 4" (10.2 cm.) rolls Syr-Vet cohesive flexible bandages; 4"x 5 yds. (10.2 cm x 4.6 meter). Self-adhesive, lightweight compression/breathable.
10 - absorbent, hospital-grade, gauze pads.
3 - large, non-stick, sterile, highly absorbent and hospital-grade, Telfa-type pads.
2 pair vinyl gloves ('fits all').
Scissors (stainless blades).
Tweezers (stainless).
LED Flashlight with 3 fresh batteries installed.
Hoof pick with rubber coated handle.
1 'INSTANT' Cold Pak (easy directions on package).
Thermometer -  5 inch (12.7 cm.), heavy duty Veterinarian-quality & case, ring top, Celsius & Fahrenheit.
String to be used with the Thermometer.
Tourniquet for Emergency Bleeding Control ONLY.
Note Pad.
Pen and pencil.
Reference/Instruction sheet on: "Herbal Healing Salve".
'Horse Keeping Reference Guide' - a treatise written by Doc Alaire.
AAEP - "Guidelines to Follow During Equine Emergencies".
NOTE: When you purchase the EquiKit™ "Basic" Kit, you WILL receive all of the medical supplies as listed above, but on occasion, due to packaging and design changes by the vendors, some items may appear slightly different than the items in the photos.
EquiKits™ • 19 Bardin Rd., Granville, N.Y. 12832 • Phone 570.250.1622 • email: sales@equikits.com
Equine Emergency Medical Kits & Horse First Aid