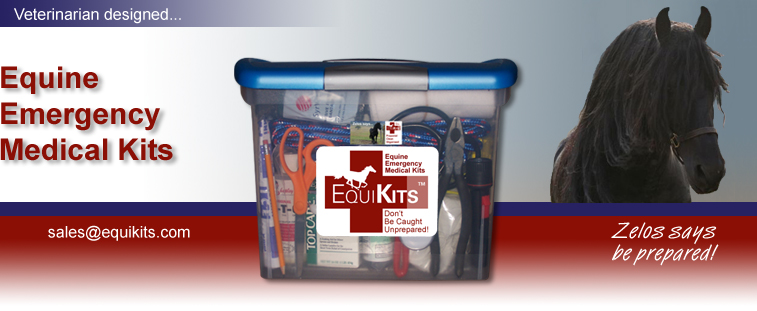 Perfect for the barn, tack room, paddock, trailer or riding event !
Designed by a veterinarian:The medical supplies in the EquiKits™ are identical to the items Doc Alaire keeps on hand in her own barn. Doc Alaire has used her over 20 years of experience as an equine veterinarian in the creation of her line of EquiKits™ Emergency Med Kits. An EquiKit™ will assure you'll be prepared and organized. No panicky search for supplies or precious minutes lost! You'll be ready.
Grab and go case: Unlike the duffel style kits that can mildew and may compromise your supplies over time, the EquiKit™ uses an easy-to-clean, clear-sided plastic box with snap-lid and carry handle, to keep items clean, dry, visible, and organized. The carry handle lets you maintain a firm grip with one hand and manage the phone or other needed items with your free hand.
Arrives ready to use: Some items have been unwrapped and readied for quick use, bandages properly rolled, batteries installed, and excess packaging removed. There is additional room in the carry case to include your own supplies.
Affordable AND complete: You want an emergency horse first aid kit which is affordable but also has the 'correct mix' of good quality supplies for your horse when the need arises.
A note from Doc Alaire...
I have been a veterinarian for over 25 years, and an avid horse lover my whole life. Over the years I have enjoyed working with backyard horses, big dressage stables, harness tracks, breeding farms, and training barns. I am an active AAEP (American Association of Equine Practitioners) member along with other professional organizations. I love teaching young people though Pony Club, 4H, and at my own stable. I am looking forward to sharing the wonderful world of horses with my daughter. Thanks for visiting and I hope you consider an Equikit™ as a smart and valuable addition to your stable.
- Doc Alaire
EquiKits™ • 19 Bardin Rd., Granville, N.Y. 12832 • Phone 570.250.1622 • email: follyhilclassics@gmail.com
Equine Emergency Medical Kits & Horse First Aid